Warnock's House Party
10 String Symphony
Sunday, June 2nd 2013
Hosted by Archie and Pris Warnock

Crownsville, MD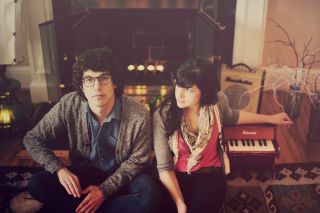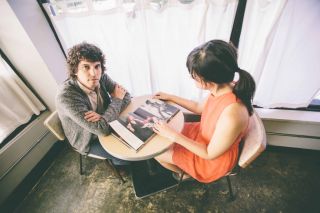 I was contacted a few months ago by Rachel Baiman, who was looking into the possibility of coming here with her musical partner, Christian Sedelmyer, to play a house concert for us as the duo 10 String Symphony. Christian, as some of you may recall, played here with the great young band, The Farewell Drifters. Knowing already how talented Christian is, I dug up some of their music and gave it a listen and was really impressed. They have a great blend - on fiddle and banjo or twin fiddles - and a talent for both finding good old songs and news ones that sound old.
Well, to make a long story short, their time frame for touring through the area here worked out perfectly for an early-summer, Sunday afternoon show. We love doing those - the weather will be great and the late afternoon time slot will let all of you get your Sunday chores done in time to join us for some great music and still be home in plenty of time to get ready to go back to work on Monday. So, we'll be hosting them here on Sunday, June 2 at 5pm and we hope you'll be able to join us.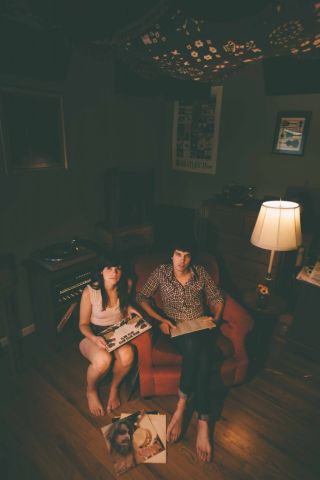 More About 10 String Symphony
"The Nashville music scene is a famous home for world-class side musicians, as well as a plethora of legendary songwriters. Now it presents us with a duo that combines the best of both worlds, skilled instrumentalists with an incredible amount of soul and a love of great songs.
"10 String Symphony is an arena for mesmerizing acoustic innovation. Although difficult to categorize, their music is instantly recognizable as a blend of two distinct but equally vivacious musical voices, encompassing 'aggressive, almost discordant, celtic and dare I say punky string-chording experimentations' (The Bluegrass Situation). Vocally, Rachel Baiman and Christian Sedelmyer lock in seamlessly, and their vocal duets often take center stage despite the fact that they are self-described fiddle players.
"Sedelmyer (Formerly of the Farewell Drifters) and Baiman (Formerly of Belfry Fellows) met in Nashville, and realized a mutual love for the range and depth of the 5-String fiddle. Their desire to see just how far a two-fiddle, two-vocals instrumentation could take them was the inspiration for the 10 String Symphony project. By the time their first full-length album was released in November 2012, their instrumentation had expanded to include the occasional clawhammer banjo and resonator mandolin, though still maintaining a stripped down, tightly woven and carefully arranged duo sound.
"Decidedly contemporary in their musical approach, their debut album showcases Sedelmyer's virtuosic improvisation and creative harmonic soundscape ideas alongside Baiman's old-time rhythm and emotional melodic sensibilities. Just over a year old, the duo has already gained recognition and attention from some major festivals, landing slots at the ROMP festival in Owensboro, KY and the Strawberry Music Festival in Yosemite, CA in the summer of 2013."
What Others Are Saying
"When each song ended, the two pressed tight into their microphones, savoring the last strains of the harmony - and even the bartenders seemed to be leaning forward breathlessly, awaiting someone to clap first. Their self titled recording aptly demonstrates the power of a spare, tightly-connected acoustic performance that is given room to evolve - for bluegrass fans, the lightning-fast harmonic runs on dueling fiddle is worth the price of admission alone. But it's the off the road experiments, especially from Christian's biting bow-strokes that will make future audiences take note."

- Z. N. LUPETIN, The Bluegrass Situation
"The fiddle playing from both Sedelmyer and Baiman is beautiful, articulate, expressive, and their synchronicity is compelling. Baiman's clawhammer work is tastefully gentle as well, and Sedelmyer's improvisational work is a wonderful balance of the traditional mountain music fused with contemporary harmonic and rhythmic influences that make for a great listen. Their vocals are equally impressive, capturing that far away feeling so loved in folk music, and when set against the texture of the two fiddles (or fiddle and banjo), it is easy to get lost in this record."

- The AcoustiCana Journal
See 10 String Symphony on YouTube!
No Smoking - No Pets (ours prefer only human visitors)
Please RSVP by Friday, May 31st.
You can guarantee your seat by sending a check in advance. Details provided with your reservation.
Phone 410-766-3115 or email Archie.